More than 717 people killed in Hajj crush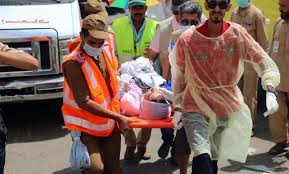 At least 717 Hajj pilgrims were killed on Thursday – and another 850 injured – in a stampede that took place near the city of Mecca in Saudi Arabia, according to a Saudi official.
Saudi Arabia's Civil Defense Unit has confirmed that at least 717 people had been killed in a stampede in the town of Mina, which occurred as pilgrims performed a ritual in which they threw stones at a structure representing the devil.
Civil Defense Unit officials said operations were still underway to find and treat the injured.
According to Saudi officials, some 2 million Muslims from around the world are participating in this year's Hajj pilgrimage.
We will have more on this as the story develops.