Muslim Charity Run 2015 is a massive success!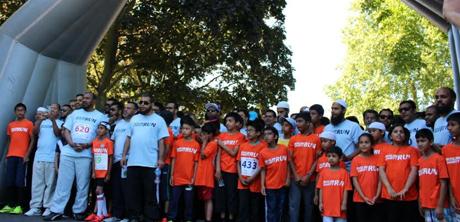 Hundreds of runners fundraising for over 20 charities took part in the Muslim Charity Run 2015 at Victoria Park, Bow, East London. This year's run evolved from the previously successful Run 4 Your Mosque.
On a gloriously sunny day with temperatures peaking at 25 degrees, runners – young and old – ran to fundraise for a charity of their choice. A warm-up session was run by the Mosque's volunteer, Dr Shafiul Amin, who made sure runners had their blood flowing properly before the start! Members of the Mosque's trustees also ran hoping to improve upon their course times from last year.
Participants actively fundraised for charities including the East London Mosque. The Mosque's Maryam Centre, which was opened to the community 2 years ago, but still has outstanding debts.
Some runners completed the 5km course in 20 minutes! The year's prizes for runners who came first in their respective age group included a Nintendo 3DS, mountain bike, Red Letter Day, Samsung tablet and a laptop computer.
Dilowar Khan, executive director of the Mosque said: "I find it very encouraging to see all these faces here today, old and young, supporting their charities. We hope this initiative continues to help our community become fit and active, and promote a healthier lifestyle."
The following runners came first in their age groups:
Under 12s: Ismail Muhammad
13-17: Miqdad Anam
18-34: Shahib Ali
35-50: Rackid Afouzar
51+: Muhammad Shah Alam Sarker
Senior Fundraising Officer for the Mosque, Tozommul Ali said: "The event was a success as the turn out was good. All the charities that took part were full of enthusiasm. I would also like to thank everyone for their donation towards the charity of their choice. Furthermore, this would not have been possible without the hard work and sacrifice of our volunteers."
The closing ceremony for the Muslim Charity Run 2015 was led by Mosque chairman, Habibur Rahman, who thanked the runners for their support and encouraged everyone to take part next year.
We take this opportunity to thank our sponsors Islamic Relief, Bamford Trust PLC, Haji Taslim Funerals, All Seasons Food, Abacus Partners, Human Aid, Eat Halal and Sunnah Circumcisions.