Myanmar will not succeed if Muslim population is oppressed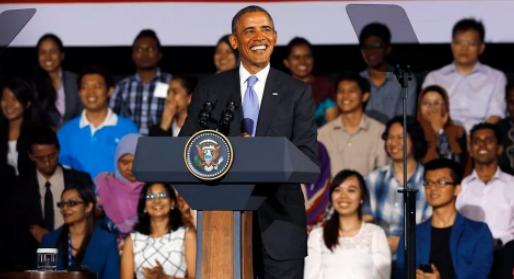 US President Barack Obama has warned that ethnic and religious conflicts could move Myanmar in a "very bad direction."
Obama praised the "courageous process" of political reform taking place in a country formerly led by a military junta, but warned that democratisation after years of repression brought its own perils.
"Myanmar won't succeed if the Muslim population is oppressed," Obama said at a "town hall" meeting during a visit to Muslim-majority Malaysia.
Obama was referring to Myanmar's Muslim Rohingya minority in Rakhine state which has been subject to persecution at the hands of Buddhist nationalists.
"The danger now that they are democratising is that there are different ethnic groups and different religions inside Myanmar," Obama said.
"If people start organising politically around the religious identity or their ethnic identity… then you can actually start seeing conflicts… that could move Myanmar in a very bad direction."
"In particular, you have a Muslim minority inside Myanmar right now that the broader population has historically looked down upon and whose rights are not fully being protected."
Myanmar, also known as Burma, has been by plagued by religious unrest in recent years with at least 250 people killed in clashes since 2012.
Thousands more people have been displaced.
Obama made a triumphant visit to Myanmar in November 2012 and his administration has offered strong support to the government of President Thein Sein as it seeks to cement civilian rule.
Washington has for years been a strong supporter of opposition leader Aung San Suu Kyi and backs efforts to amend the country's constitution so that she can run for president.
Obama called during his inauguration in 2009 for authoritarian regimes to unclench their fists and embrace dialogue with the US.
Unless Obama's diplomacy with Iran over its nuclear program evolves into a long-term rapprochement, Myanmar will stand as the only example of a nation to have accepted the call.