New generation British-Bangladeshis needs to be connected with Bangladesh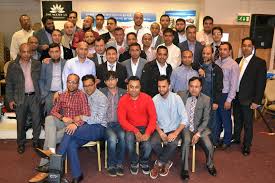 To make the new generation British-Bangladeshis more interested to Bangladesh, they need to maintain the connection with their homeland. Similarly, the non resident Bangladeshi should invest more in Bangladesh, so that their next generations are more interested in Bangladesh.  Dewan Gazi Jafar Sadek (Koyes Gazi), Vice-president of Sylhet Awami League, told this in a view exchanging meeting organised by Nabiganj Welfare Association on 1st September in a restaurant in East London.
Former Chairman of Six Kurshi Union Nuruzzaman Chowdhury Ana presided over the view exchanging meeting and Mirza Tasnu Beg conducted it.
The special guests at the meeting were former student leader Foyejur Rahman Lashkar, journalist Matiar Chowdhury and Cllr Rahima Rahman.
Convenor of the organisation Abdul Halim Chowdhury gave the welcoming speech.  Other guests who addressed the audience included Alhaj Abul Bashar, Ataur Rahman Chowdhury Sohel, Tojommul Ali Sardar, Mirja Awlad Beg, A K M Tarek, Kamrul Hasan Chowdhuy, Shamim Chowdhury, Asabur Rahman Jibon, Babul Ahmed Chowdhury, Khairul Hasan Chowdhury, Mohin Uddin Chowdhury, Abjaur Rahman Chowdhury, Shohid Chwodhury, Shahidul Hasan Chowdhury, Osi Miah, Fajlu Miah, Aminur Rahman, Mujibur Rahman, Barkat Majumdar and others.