New Zealand mosque attack: 49 dead, 20 injured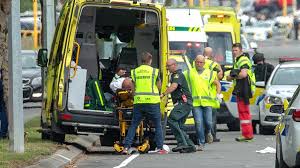 Attacks on two Christchurch mosques left at least 49 dead on Friday, with one gunman – identified as an Australian militant – apparently livestreaming the assault that triggered the lockdown of the New Zealand city.
In what appeared to be the worst attack against Muslims in a western country, witnesses spoke of victims being shot at close range, with women and children believed to be among those killed.
"It is clear that this can now only be described as a terrorist attack," said Prime Minister Jacinda Ardern, saying it marked "one of New Zealand's darkest days".
"From what we know, it does appear to have been well planned," she said, adding that in addition to the dead another 20 people were seriously injured.
Ardern said New Zealand had been placed on its highest security threat level. She said four people in police custody held militant views, but had not been on any police watchlists.
Ardern said the events in Christchurch represented "an extraordinary and unprecedented act of violence" and acknowledged many of those affected may be migrants and refugees.
Police took three men and a woman into custody after the shootings, which shocked people across the nation of 5 million people.
Authorities have not elaborated on who they detained. But a man who claimed responsibility for the shootings left a 74-page anti-immigrant manifesto in which he explained who he was and his reasoning for his actions.
Video footage widely circulated on social media, apparently taken by a gunman and posted online live as the attack unfolded, showed him driving to one mosque, entering it and shooting randomly at people inside.
The Bangladesh cricket team was arriving for prayers at the mosque when the shooting occurred but all members were safe, a team coach said.
People in centre of the city should stay indoors, police said. All Christchurch schools and council buildings have been placed into lockdown.