Palestine flag ripped down from Tower Hamlets town hall by vandals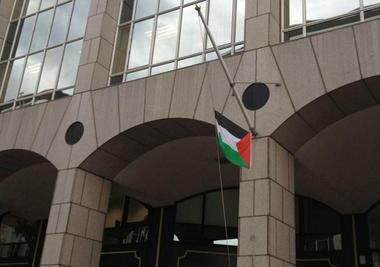 The flag, which had been erected on Wednesday afternoon as a gesture of "humanitarian solidarity" with the victims of Gaza, was found by council staff yesterday morning to have been ripped from its flagpole. It had been cut from its ropes and has disappeared.
The discovery came as Metropolitan Police officers arrived at the town hall to discuss concerns raised with them about the flag's potential to incite hatred within the borough's Jewish community.
A police source said the police might have asked for the flag to be taken down in any case.
However, the borough's directly elected mayor, Lutfur Rahman is "considering" re-erecting a new flag later today.
A council staff said: "Today council facilities staff found the flag had been ripped from the flagpole in an act of perceived vandalism. The incident has been reported to the police."
The decision to raise the flag came from Mr Rahman, and was backed by councillors from his Tower Hamlets First party and Labour at a meeting on Wednesday night.
It is understood that the mayor only became aware it had been removed after a tweet from the police this morning, when the account @MPSTowerHam said: "it has been confirmed the flag has now been removed".
Mr Rahman had ordered the flag to be flown as a "humanitarian gesture" with the people of Gaza, where more than 1,000 people have been killed during a conflict with Israel.
He said: "On July 30 I took the decision to fly the Palestinian flag from Tower Hamlets own hall as a humanitarian gesture of solidarity with the victims of the Gaza crisis.
"The decision was taken after many local residents raised concerns at the recent escalation of violence in Gaza where over 1,300 people have been killed, most of them women and children.
"I call on the Prime Minister to take decisive diplomatic action to help bring this unnecessary violence to an end by using our nation's expertise in conflict resolution.
"Conflicts in other parts of the world can have an impact locally and in Tower Hamlets our message to residents of many backgrounds has consistently been about respecting our differences and valuing our similarities.
"This has been achieved through dialogue with all our communities and promotion of the borough as 'No Place for Hate'.
"Some have suggested that raising the Palestinian flag is to take sides however my decision was in solidarity with civilian Palestinian victims and I share the view of the UN that these civilians have been unfairly and disproportionately targeted.
"Sometimes politicians need to take a stand in the face of injustice and needless suffering and that is what I am doing."
Tower Hamlets is the third council to make the gesture after the boroughs of Preston and Bradford raised the Palestinian flag over their town halls.
South American countries, including Brazil, Chile, Ecuador, Peru and Bolivia have recalled their ambassadors from Israel in protest over the fighting in Gaza.
1,462 Palestinians have been killed and more than 8,000 injured since the Israel began its siege on July 7. At least 70 Israelis, mainly soldiers have died.