Parents and carers supported by Tower Hamlets Holiday Childcare over the summer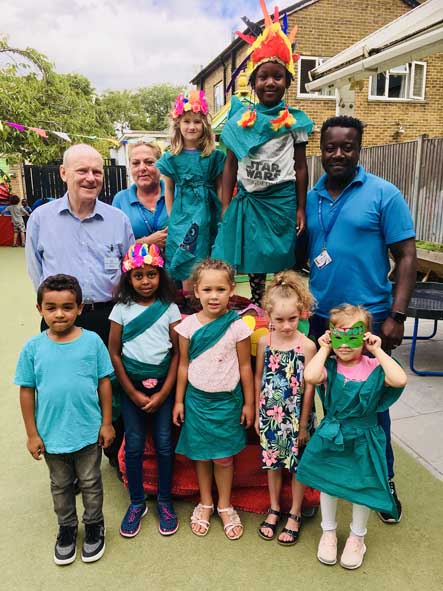 Mayor John Biggs got into the holiday spirit and made the best of the summer as he visited St Mary & St Michael Primary School – where the council has been providing affordable childcare throughout the long summer break.
The summer break is when there is the highest demand for childcare. 550 families have used the summer scheme, with 780 children benefitting.
The Tower Hamlets Holiday Childcare Scheme offers high quality childcare for children aged 3-13 years, throughout 9 weeks of the school holidays over the year, including the long summer holidays. The provision is aimed at supporting parents and carers to continue to work, by providing an affordable childcare option during the school holidays.
The Holiday Scheme is delivered 43 days per year. On average the schemes provide 160 subsidised childcare places per day, supporting 6,450 children in a year, including children with additional needs and vulnerable referrals from social care and schools.
Mayor John Biggs said: "The holiday period presents both logistical and in some cases financial problems for parents as they seek solutions to childcare. As a council we have helped parents through the school holidays, and continue to look at how we can improve our childcare offer throughout the year".
Cllr Danny Hassell Cabinet lead for Children Schools and Young people said: "The scheme run by the council here in St Mary & St Michael Primary School shows how we are offering high quality affordable childcare to parents across the Borough. I was particular impressed at how the scheme also offers support to children with additional needs."
Both the Mayor and Cllr Hassell have visited the childcare scheme in the last weeks seeing for themselves how the Borough's childcare provision offers affordable childcare.
See information on childcare provision in the Borough here