PM May in phone call with President Trump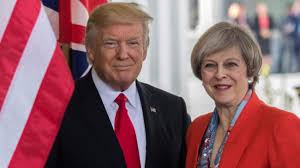 United Kingdom (U.K.) Prime Minister (PM) Theresa May spoke to the United States President Donald Trump by phone Tuesday evening.
They discussed the Clarifying Lawful Overseas Use of Data (CLOUD) Act that was introduced in the U.S. Congress today.
The CLOUD Act will detail how U.S. security officials will be able to attain and access data stored in another country if it is need to prosecute "serious crimes and terrorism".
The U.S. Attorney General, with the powers of the Act, will have the authority to enter into agreements with allies such as the U.K. that allow courts – British and American – to reciprocally comply with orders under the CLOUD Act.
For PM May, the signing of the Act into law will herald a new era in cyber security cooperation between the U.S. and the U.K.
"The Prime Minister stressed the great importance of the legislation to the U.K. authorities in investigating criminal and terrorist activity in the UK," a spokesperson from Downing Street said.
The Prime Minister and President Trump agreed the passage of the Act through the U.S. legislative system was "vital for our collective security" he added.
If passed into law, the CLOUD Act will empower law enforcement officials in both the U.K. and the U.S. to investigate citizens suspected of terrorism and serious crimes. Additionally, the Act will allow both nations to share data of the above mentioned crimes.
The proposed legislation has already come under criticism from human rights organisations, arguing that the bill expands the U.S. government's – as well as foreign governments' – surveillance authorities that will erode and violate individuals privacy and rights.
The Open Technology Institute, a U.S. think tank on communications and technologies, argues that "The CLOUD Act's protections for privacy, civil liberties, and human rights are deficient".
Furthermore, "The bill would also change the law to enable the U.S. government to compel U.S. providers to hand over users' data even if the data are held outside the United States".
The CLOUD Act is due to be considered by the end of February.