PM Sheikh Hasina inaugurates Dreamliner Akash Beena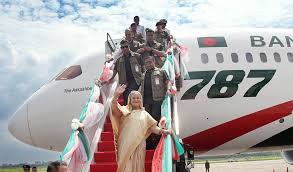 Prime Minister Sheikh Hasina has inaugurated the first Boeing 787-8 Dreamliner of Biman Bangladesh Airlines.
At the launch of the aircraft named Akash Beena at Hazrat Shahjalal International Airport on Wednesday, the prime minister asked the Biman staff to work with sincerity and said: "Don't earn a bad name."
The Dreamliner, fitted with the latest aviation technology, flew commercially to Kuala Lumpur after the inauguration.
The airliner has the capacity to fly 16 hours nonstop with an average speed of 650 miles per hour, according to Biman officials.
A Dreamliner costs 20 percent less fuel than other aircraft, they say.
Excluding tax and other charges, the fare for an economy class flight on the Dhaka-Singapore route is fixed at $200, while the price for a ticket of the same class on the Dhaka-Kuala Lumpur route is $290.
The 271-seater has 24 business class seats made by STELIA, and the remaining 247 made by HEICO for the economy class.
The business class seats are flat-bed ones, meaning these can be flattened 180 degrees. Light from windows can be controlled from these seats.
Empty business class seats will be auctioned among economy-class passengers in mid-air.
All the seats of the Dreamliner feature LED monitors, which can be used to see nine channels including the BBC and the CNN. There will be more than 100 movies to watch on the inflight entertainment system.
Passengers will enjoy WiFi connection even when the aircraft is 43,000 feet above the surface.
A deal with 25 satellites will let the passengers make calls on roaming.
The passengers will be able to buy duty-free products like ornaments and perfume in the plane in mid-air.
General Electric has manufactured the engine. Chevron nozzles have been attached to reduce the sound.