PM's day out with grand-children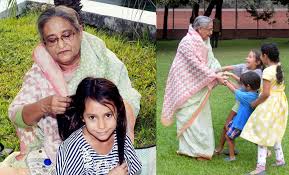 Prime Minister Sheikh Hasina spent her weekly off-day with her grandchildren at her official residence Gonobhaban on Friday (February 23).
Ashraful Alam Khokan, deputy press secretary of the Prime Minister, shared two photos of Sheikh Hasina playing with her grandkids on social media Facebook. The photos took literally minutes to go viral on the platform.
In the photos, the Prime Minister could be seen tying the hair of the granddaughter and playing with all of them on grass.
The kids were Leela and Kaiyus, children of Radwan Mujib Siddiq Bobby, son of Bangabandhu's youngest daughter Sheikh Rehana. The photos were taken by Sumon Das.