President Abdul Hamid meets Ban Ki-moon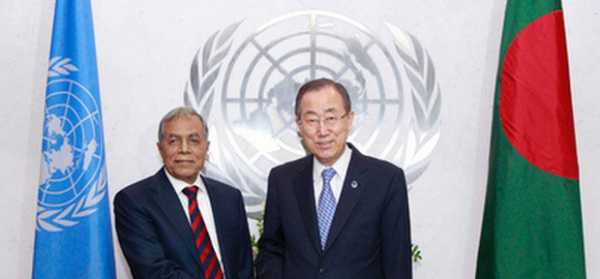 President Abdul Hamid on Thursday held a meeting with the UN Secretary-General Ban Ki-moon at UN headquarters.  During the meeting they discussed various issues related to Bangladesh and the UN.
Hamid said Bangladesh expects a better representation to 'command position' in UN peacekeeping missions as it is the highest troop contributor to UN peacekeeping activities.
"In line with our contributions and commitment to peacekeeping operations, we expect that Bangladesh to be better represented to command position at the field and senior staff level– both at civilian and uniform positions of the headquarters," he said.
The President said Bangladesh greatly values UN Secretary General's continuous attention to development in Bangladesh.
Ban Ki-moon appreciated the progress of Bangladesh in its different sectors, especially in the fields of poverty reduction, reproductive healthcare system and disaster management.
Mentioning that he is going to arrange a climate summit at the UN soon, the UN Secretary General lauded the leading role of Bangladesh in raising voice at different international forums against the adverse effects of climate change.
Senior Secretary to the President's Office Sheikh Altaf Ali, Permanent Representative of Bangladesh to the United Nations Dr AK Abdul Momen, Military Secretary to the President Major General Abul Hossain and Press Secretary to the President Ihsanul Karim were on Bangladesh side while UN Under Secretary General Ameerah Haq and high officials of the UN Secretariat on the UN side during the meeting.
Later, Bangladeshi-born UN Under Secretary-General Ameerah Haq meet President Abdul Hamid at his hotel suite.
During the meeting, they discussed various matters related to bilateral issues and mutual interests.