President invites Sheikh Hasina to form government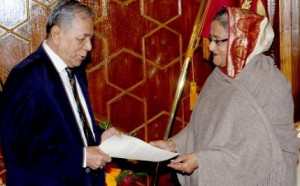 President Abdul Hamid has invited Awami League (AL) President and Prime Minister Sheikh Hasina to form government.
The President came up with the invitation when Sheikh Hasina requested him to take necessary steps for formation of government
during a courtesy call on him at Bangabhaban today, said President's press secretary Ihsanul Karim while briefing journalists.
"The Prime Minister has apprised the President that she has been elected AL Parliamentary Party (ALPP) leader in the maiden meeting of AL Parliamentary Party," Karim said.
The President congratulated Sheikh Hasina on her election as ALPP leader.
During the meeting, Sheikh Hasina informed the President that the MPs were sworn in today. She also informed the President that ALPP members also elected her as the leader of the House.
AL General Secretary and LGRD and Cooperatives Minister Syed Ashraful Islam and Cabinet Secretary Md. Mosharraf Hossain Bhuiyan were with the Premier.
Secretaries to the President were present.