Pride of Asia showcased a unique dining experience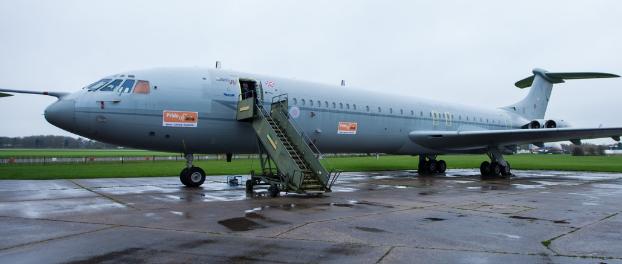 On the 23rd of November 2014 the Pride of Asia group under the direction of Wazid Hassan Shelim and Hafiz Abdul  show cased a unique dining experience to the Bengali press, The former Royal Air force base at Bruntingthorpe is home to the last few remaining VC10 aircraft. The Royal Air force decommissioned these planes 5 months back this year. Wazid Hassan Shelim and his partner Mr Hafiz Abdul turned the aircraft into a palace of a restaurant which was host to a celebratory dinner celebrating the first flight Of our Father of the Nation late Sheikh Mujibur Rahman Bangladeshis First national statesman.  It also gave the Team Pride Of Asia the opportunity to cater onboard the aircraft overcoming the logistical nightmares associated with Wedding and banqueting techniques.  Since the Sunday the 23rd November this event has been televised by the Bengali news agencies and also the BBC and Local newspapers in the region of Leicestershire.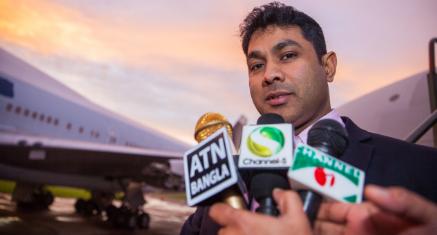 The VC10 aircraft was dressed by the Team Pride Of Asia and was admired by everyone who had dined, the experience was truly like dinning on the Cunards RMS Titanic. Indecently Cunards actually operated this particular VC10 in conjunction with BOAC.  To understand the proportions of the mammoth task one has to refer to the photographs to get an understanding of the job undertaken.
The food was fantastic and complimented the Entire experience for the Lucky VIP guests,  The Menu was Succulent diced chicken in Paprika steamed and the charcoal gilled with Setae Potatoes garnished with peppers and coriander.  This was just the starter. The main course was tender lamb on the bone in lightly spiced gravy served with Cardamoms and peppers with a tingle of hotness. The Indian Rice pudding in thick doubles cream and garnished with roasted nuts was delicious that it wasn't long before the food had run out.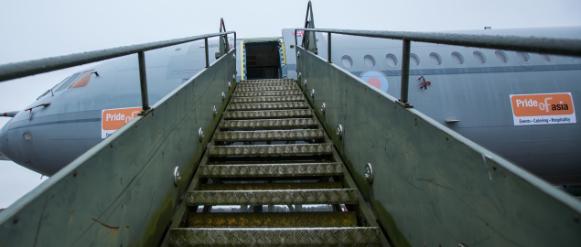 Guests were the ushered of the plane to the Officers mess where the rest of the evening was spent chatting about the day's events. A spot of tea and after dinner mints served by the very friendly staff. The whole event was a success and since broad casted on the Bangladesh News Channels, un influx of interests and wedding bookings have been accepted. The Pride Of Asia was very pleased with the outcome of the event.