Rabina Khan chosen by Lutfur Rahman to run for mayor of Tower Hamlets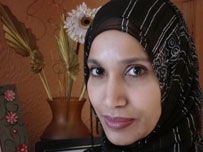 The ousted mayor of Tower Hamlets, Lutfur Rahman, has chosen councillor Rabina Khan to stand as a candidate for the mayoral position in the east London borough.
The news of her nomination was publicised yesterday evening on social media from numerous figures and supporters of Tower Hamlets First.
In May 2010, Khan won her Shadwell seat in the Tower Hamlets Council election for Labour Party, where previously a Labour candidate had failed three times to win.
In October 2010, she was suspended along with nine other councillors from the Labour Party for her support of Lutfur Rahman.
She defected to Tower Hamlets First and thereafter in 2014, Khan was re-elected in the Shadwell ward.
Khan is now the Cabinet Member of Housing, Development and Renewal with a remit for delivering housing pledges.
Last week, London's first elected Muslim mayor of Tower Hamlets, Lutfur Rahman, was found guilty by the Election Court of electoral fraud, using the "spiritual influence" of a hundred imams, and bribing voters with samosas and biryani.
Former mayor of London Ken Livingstone, Respect Party MP George Galloway, and the General Secretary of Unite Len McCluskey, who are the largest trade union in the UK and the Labour party's biggest donor, have all spoken out against Rahman's removal from office.
The re-election for the mayoral position in Tower Hamlets will take place in June.