Rajon murder: 4 including Kamrul get death sentence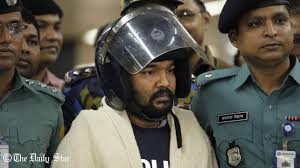 A Sylhet court on Sunday sentenced four people to death in the murder case of Samiul Alam Rajan.
The verdict was given by Sylhet's Session Judge Akbar Hossain Mridha after the final hearing was held on Oct 27.
On October 1, the court recorded testimonies of 36 out of 38 witnesses. Following pleas from the prime suspect Kamrul Islam, 11 more testimonies were taken.
Following the incident, Kamrul fled to Saudi Arabia but he was soon taken into custody Bangladesh embassy with the help of the local police.
A team of Bangladeshi law enforcers later on October 15 brought him back from Saudia Arabia. The court sent him to jail the very next day.
On the 8th of July, 13-year old Rajon was mercilessly beaten to death on charges of theft. Nationwide outcry spread when video of the beating went viral social media.
Police soon charged 13 people with the murder and trial started on 22 September. 11 people, including Kamrul Islam's brothers Muhith Alam and Ali Haider were arrested by the police.
Of the 13, Kamrul's other brother Shamim Ahmed and another identified as Pavel Ahmed are still absconding.