Rich Arabs hit UK streets this summer with supercars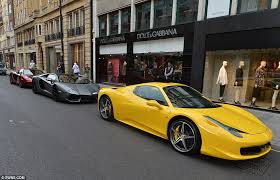 With temperatures soaring in the Middle East, rich Arabs have once again headed to the United Kingdom for the summer.
Luxury and sports cars have once again flooded the streets of London, a favourite destination among Middle Eastern travellers.
Londoners, who consider the flashy rides an eyesore, have taken to social media to post photos and videos of the supercars, driving around or parked in all their glory.
The Middle East's affluent spare no expense, paying in excess of £20,000 for a return journey – for their metal marvels to be flown around 3,000 miles, and often leave them parked up on the streets of London, the Daily Mail reported.
Most of the fancy rides spotted are flown in from Qatar, Saudi Arabia, UAE and Kuwait – considered among the top richest countries in the region.
From a chrome Mercedes-Benz McLaren to a silver Lamborghini Aventador, the luxury supercars are among hundreds which have been flown into the UK from the Middle East.
Local parking wardens were spotted descending on the supercars in Knightsbridge this afternoon, handing out fines which may never be paid.
According to the Daily Mail, Qatar Airways is one such airline that ships the luxury cars. Using their main and lower deck, the airline offers 31 positions on each flight.
In recent years, Londoners have reportedly complained to authorities about the noise these supercars create, apart from blocking parking spaces and causing traffic.
According to a recent report by The Sun, since the drivers rack up thousands in fines, multi-millionaire Arabs have been offered "50 per cent discount" if they pay their fines within 14 days, under the the Traffic Management Act 2004.