Sadiq Khan favourite for London mayor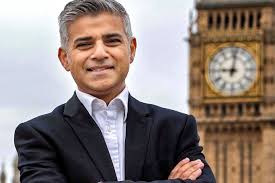 Sadiq Khan, a Muslim lawmaker from Britain's opposition Labour Party, is the strong favorite to win London's mayoral election on Thursday after a bitter contest marked by religious tensions and accusations of racism.
Polls show Khan, the son of a bus driver, is as much as 20 percentage points ahead of rival Conservative Zac Goldsmith in the race to run one of the world's top financial centers. If he wins, he will succeed current Conservative mayor Boris Johnson to become the first Muslim to head a major western capital.
London's population of 8.6 million is among the most cosmopolitan in the world and it is rare for identity politics to enter British campaigning.
Yet Goldsmith, with the support of Prime Minister David Cameron, has for weeks focused on Khan's faith and past appearances alongside radical Muslim speakers, accusing him of giving "platform, oxygen and cover" to extremists.
Former human rights lawyer Khan says he has fought extremism all his life and regrets sharing a stage with speakers who held "abhorrent" views.
He has accused Goldsmith, the elite-educated son of a billionaire financier, of using Donald Trump-style tactics to divide Londoners along faith lines, as well as being part of an out-of-touch wealthy elite.
"There's a chance that there are people who are almost subconsciously put off (voting for Khan) by the dog-whistle racism … people who wouldn't like to say 'I'm not going to vote for Sadiq Khan', but will have a wobble at the ballot box," said Anthony Wells, director of political and social opinion polling at YouGov.
But he added the impact was unlikely to be enough to allow Goldsmith to pull off a surprise victory.
"The only effect of the Zac Goldsmith campaigning is probably just to entrench all those long-standing issues the Conservative Party have got with appealing to ethnic minority voters," he said.
Last week there was a new twist as Kahn's party was accused of failing to stamp out anti-Semitism in its ranks amid a row over comments by another lawmaker on her Facebook account arguing that Israel should be moved to the US.
Khan condemned the comment and distanced himself from former London mayor Ken Livingstone, who on Thursday was suspended from the Labor party for supporting the party member at the center of the controversy.
The left wing of the party, and notably its current leader Jeremy Corbyn, have long been sympathetic to the Palestinian cause and it is not the first time Labor has faced accusations that this had led to actual anti-Semitism.
Labor figures acknowledge the dispute is distracting the party ahead of the London vote and local elections across the country on the same day, with Corbyn likely to face new questions over his future if the party does poorly.
The two mayoral hopefuls also have opposing stances on one of Britain's most important strategic decisions: whether to remain a member of the European Union. Goldsmith wants to leave, Khan wants to stay.
But even with a June 23 referendum on that issue looming, at which a vote to leave would create serious question marks over London's role as a global financial center, the Brexit issue has barely featured in the campaign.
Both candidates have been eager not to alienate voters who disagree with them on Brexit, saying they will fight for the capital's interests whichever way the country votes.