Samsung unveils sleek new Galaxy smartphones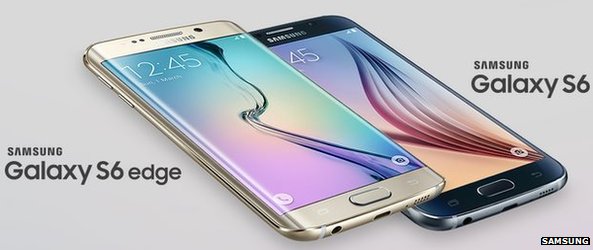 Samsung unveiled its latest Galaxy S6 series of smartphones in Barcelona this week, ahead of the 2015 Mobile World Congress, announcing the latest model as a "much faster" version of the popular phone, as well as a potential "game changer" with its new mobile payments system.
The slim-framed Galaxy S6 and the curved-edged variant – Edge – have an improved processor, camera and screen.
They have also dropped some of the less popular in-house apps that used up much of the phone's memory.
"I definitely liked the featured Edge," Sean Moshir, CEO of CellTrust, a leading provider of secure mobile communication software, told Al Arabiya News.
"You can see who is calling without flipping the phone over," Moshir, who attended the launch of the smartphone in the Spanish capital, said.
He said the look of the Samsung S6 was "slick" and praised the phone's wireless charging capability.
Zouheir Lakhdissi, CEO of the Casablanca-based Dial Technologies who also attended the launch, said the South Korean firm had "set a new standard in the industry" both in terms of design and features.
Lakhdissi said Samsung had combined "efficiency and design," adding that the rapid charging of the phone meant people could "have [approximately] four hours lifetime of battery in 10 minutes."
Bill Gajda, senior vice president at Visa, Innovation and Strategic Partnerships, said of the phone's mobile payments system: "They implemented Samsung Pay as well, it is going to feature Visa, an important partner, so I think all of this together, the S6 is very impressive."
He said Samsung Pay would be "a huge boost for mobile payment."
"I think the two technologies they put in, NFC and MST, will allow Samsung 6 to be used almost anywhere."
Joseph O'Hara, from mobile network operator EE Limited, said that while some of the new elements of the Samsung phone "mimic iPhone 6," he said the S6 was nevertheless "a step further" and a "game changer" for those in retail given the new credit card payment feature.
"It has a ground-breaking design with the Edge concept," he added.
Asked if this would put more pressure on Apple, which by some estimates surpassed Samsung as the world's biggest smartphone maker late last year, O'Hara said that while the U.S. company "is more authentic from the grassroots and it will not copy Samsung," he said: "If I was Apple, Sony, HTC I would worry" after Samsung S6.
Gajda said competition between the smartphone makers was high but Samsung was "entering the mobile market and this would put pressure on everybody and it will allow everyone to innovate."
"It is the next generation smartphone," he concluded.
Samsung is yet to disclose pricing or where the phones will appear first.
Several phone companies launched new high-end smartphones on Sunday, including HTC, ahead of the launch of the Mobile World Congress, the world's biggest telecoms trade fair.