Saudi Arabia launches multi-billion dollar entertainment resort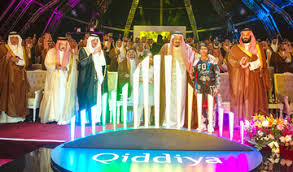 With fireworks illuminating the dramatic Tuwaiq escarpment, hundreds of guests from inside the Kingdom and around the world had a taste on Saturday of the fun to come at Qiddiya, Saudi Arabia's first entertainment, sport and cultural city.
The fireworks were triggered by King Salman, as he put in place the last baton of the Qiddiya logo, part of the ground-breaking ceremony for the project 40 km west of Riyadh.
He was accompanied by Crown Prince Mohammed bin Salman, Chairman of the Public Investment Fund, whose Vision 2030 plan aims to boost the entertainment sector and economy in Saudi Arabia, and energize the tourism industry.
Qiddiya is one of many measures aimed at reducing the Kingdom's reliance on oil and diversifying its economy. It is expected to be the world's largest entertainment city by 2030, with a total area of 334 square kilometers, surpassing Walt Disney World in Florida, which is 110 sq km.
"In creating Qiddiya, we are building a brighter future," said its CEO, Michael Reininger. "One filled with culture, sports, entertainment and the arts that responds to the Saudi people's desire for new and accessible activities that enrich their lives.
"Qiddiya will also create a self-sustaining ecosystem. Based on our five cornerstones, which are parks and attractions; motion and mobility; nature and environment; sports and wellness; and culture, arts, and education, our development will be supported by retail, residential, and hospitality offerings to form a fully-integrated entertainment destination."
After Reininger's opening address, which was preceded by the national anthem and a recitation of the Qur'an, Aa'ed Yousef performed a song with lyrics by Prince Badr bin Abdulmohsen, a gift to King Salman.
The audience was then shown a video on the wide range of tourist attractions that Qiddiya promises, including theme parks, sports facilities, motorsport tracks, and nature and safari experiences.
Considering that almost two-thirds of Saudis are under 35 years old, the project is a much-needed attraction, said Abdan Al-Abdan, 27, from Riyadh.