Saudi Arabia to change immigration process for Bangladeshi Hajj pilgrims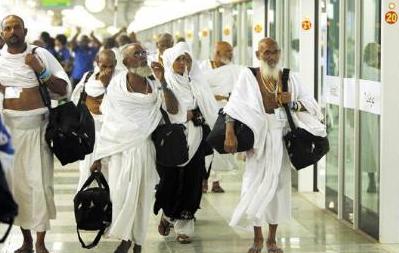 Bangladeshi pilgrims performing Hajj will now be able to complete immigration procedures before arriving in Saudi Arabia, rather than wait in the aircraft for hours upon landing in the Kingdom. The change comes following high-level exchanges between the two governments on making things easier for the 127,000 Hajj pilgrims from Bangladesh.
Anisur Rahman, from the Religious Affairs Ministry in Dhaka, said pilgrims would now be able to complete immigration formalities at Bangladesh's main international airport.
The country's pilgrims were previously required to wait in the aircraft after landing in Saudi Arabia to complete immigration procedures, sometimes waiting for up to six hours.
While half of the Hajj pilgrims will travel with the national carrier, Bangladesh Biman, the rest will be flown to the Kingdom through special flights arranged by Saudi Airlines.
"Now Bangladeshi pilgrims will be able to enter Saudi Arabia through a jet-bridge after landing at the airport without any formalities," Rahman told Arab News on Tuesday.
Bangladesh has had discussions with Saudi government representatives during the past two years about immigration procedures for pilgrims, and Religious Affairs Minister Sheikh Mohammad Abdullah went to Saudi Arabia to take the matter forward.
Saudi Arabia assured Bangladesh it would accept its request to help pilgrims, Rahman said.
"To finalize the last-minute formalities a high-profile 14-member Saudi delegation, led by the chief of the passport and immigration department, is scheduled to arrive in Bangladesh on Wednesday at 1 a.m. Saudi Arabia's Hajj and Umrah minister and other relevant secretaries will also join the team," Rahman added.
"We will have the official meeting Wednesday afternoon and the team will visit all the facilities at Dhaka airport and the Hajj camp on Thursday. Everything will be finalized after this visit."
The Saudi delegation is scheduled to leave Bangladesh on Saturday. Bangladeshis welcomed the easier landing process.
"I performed Hajj in 2015 and it took four hours for me to complete immigration formalities," 61-year-old Abdul Malek told Arab News. "If we can do the immigration and customs tasks here at Dhaka, it would be a great relief for the Bangladeshi pilgrims."
Another Bangladeshi pilgrim, 53-year-old Amena Begum, intends to perform Hajj this year and was grateful for the change.
"I have heard about the immigration hassles from others who have performed Hajj before," she told Arab News. "But I feel lucky to hear the news of having immigration formalities in Dhaka from this year."
Bangladesh will increase the number of immigration staff at the airport to 60. It is expected that Saudi Arabia will also send the same number of immigration officials to Dhaka during the month-long hajj flight operation.
"The Saudi immigration team will stay in Dhaka for the Hajj flights and we will provide all types of assistance to them," Rahman said.
But Bangladeshi pilgrims will also have to complete a 10-finger biometric registration process in line with Saudi immigration rules.
Dhaka has set the minimum cost for pilgrims at $4,145 for this year. The maximum cost is fixed at $5,045. The registration process began on Feb. 19.
Bangladesh exports more than $200 million of goods to Saudia Arabia every year. Last month two agreements and four memorandums of understanding were signed to invest in Bangladesh's power, chemical, biomedical technology and manufacturing sectors. Bangladesh is expecting more than $30 billion in investment from Saudi Arabia.