Saudi Arabia to launch "Umrah Plus" in November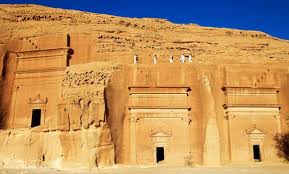 Saudi Arabia is expected to launch "Umrah Plus" program in November, corresponding to the second month of 1437 AH, which will allow pilgrims to visit tourist sites in the Kingdom.
At present, foreign Umrah pilgrims are only allowed to visit Makkah, Madinah and Jeddah.
Saad Al-Qurashi, chairman of the transportation committee and a member of the Makkah Chamber of Commerce and Industry (MCCI), said: "The idea of Umrah Plus enables pilgrims to contract with a tour company and develop an integrated tourism program based on their desires to visit tourist sites in the Kingdom after performing Umrah. There are many places that can be visited such as Madain Saleh in Tabuk and Al-Okhdood archaeological site in Najran."
Al-Qurashi explained that the prices of tours would be according to the number of days selected by the pilgrim and that the licensed Umrah companies would be able to implement this program.
"The program will lead to more job opportunities for Saudi youth, and revive the trade and economic movement in the local market, especially in the hotel and tourism industry," he said.
About the current Umrah season, he said: "This season is good with the presence of 500,000 pilgrims during Ramadan."
It said that the Haj Ministry and the Saudi Commission for Tourism and Antiquities had completed all arrangements in cooperation with the Ministries of Interior and the Municipal and Rural Affairs to facilitate the arrival of pilgrims at all tourist sites they wish to visit in coordination with the Umrah companies.