Saudi Arabian delegation signs several business agreements in Bangladesh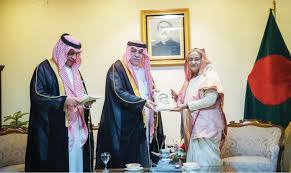 The Saudi minister of commerce and investment, Majid bin Abdullah Al-Qassabi, was received by Bangladesh's President Mohammed Abdul Hamid in Dhaka.
Al-Qassabi and his delegation also met with the Prime Minister Sheikh Hasina Wajed, and discussed methods to increase cooperation between the two countries. They also reviewed investment opportunities and ways to streamline and simplify greater private sector expansion.
During the meeting, two agreements on solar energy and electric transformers were signed, in addition to four memoranda on packaging, food, cable manufacturing and fertilizer production as well as medical training.
A consultative meeting was also held during the visit, presided over by Al-Qassabi, and attended by Bangladesh's Finance Minister Mustafa Kamal.
The two sides agreed during the meeting to form a joint working group to establish a Saudi-Bangladeshi Business Council.
The Saudi government delegation included representatives from a number of ministries, in addition to envoys from the Public Investment Fund, the Saudi Fund for Development, and major Saudi private companies.
The trade volume between Saudi Arabia and Bangladesh reached $1.381 billion in 2018, an increase of 41 percent compared to 2017.