Saudi Aramco shares priced at $8.53 in biggest IPO in history
The IPO will raise $25.6 billion beating Alibaba's record $25 billion listing in 2014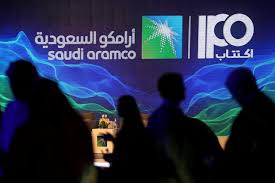 Saudi Aramco has priced its initial public offering at $8.53 (SR32) per share making it the biggest IPO in history. The price is the top of Aramco's indicative range, the company said in a statement, raising $25.6 billion and beating Alibaba's record $25 billion listing in 2014. At that level, Aramco has a market valuation of $1.7 trillion, comfortably overtaking Apple as the world's most valuable listed firm.
Saudi Arabia relied on domestic and regional investors to sell a 1.5% stake. The offering generated subscriptions of $106 billion by institutional investors and together with the total demand from individual Investors, order book hit $119 billion, it said.
The company's financial advisers had said earlier that most orders had come from Saudi funds or companies, with foreign investors— including from neighboring Gulf Arab states— accounting for 10.5% of the bids.
Aramco said Thursday it would retain the option of an even bigger offering of a 3.45 billion share sale, representing $29.4 billion.