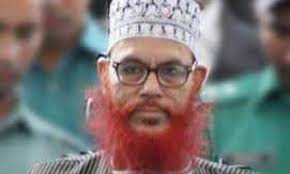 The Appellate Division of the Supreme Court gave Jamaat-e-Islami leader Delawar Hossain Sayedee imprisonment until death for committing crimes against humanity during the Liberation War in 1971.
The five-member Appellate Division bench led by Chief Justice Md Muzammel Hossain pronounced the verdict on Wednesday morning.
The other members include: Justice SK Sinha, Justice Md Abdul Wahhab Miah, Justice Hasan Foez Siddique and Justice AHM Shamsuddin Chowdhury.
The five-member bench of Appellate Division handed down the punishment on three counts of crimes including killing Bisabali and setting fire on houses of Umedpur Hindu Para, abduction, imprisonment and rape of Mohamaya, Anno Rani and Komol Rani and forced conversion of members of the Hindu community of Pirojpur.
The Appellate Division bench also gave him 10 years of rigorous imprisonment for torture and political persecution of Shahidul Islam Selim and 12 years of rigorous imprisonment for killing of Md Ibrahim.
The SC also acquitted him from charges no 6, 11 and 14.
In a reaction, Masud Sayedee, son of Sayedee said the justice was not done as we will file a review petition.
Besides, Attorney General Mahbubey Alam who represented the state in the appeals case said: "No review in this matter is acceptable as trial against Molla is settled."
On Feb 28 last year, the Tribunal in its third verdict ordered the death sentence to Jamaat-e-Islami leader Delwar Hossain Sayedee.
On Mar 28, 2013 Sayedee appealed against the death sentence, seeking acquittal.