Senator McCain dead at 81 of brain cancer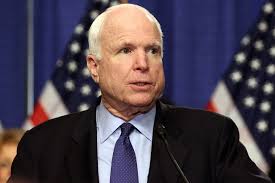 Senator John McCain, who served in the senate for more than three decades, died of brain cancer Saturday after a year-long battle with the disease.
McCain was with his wife Cindy and their family when he died early at 4:28 p.m., his office said in a brief statement.
"At his death, he had served the United States of America faithfully for sixty years," it said.
McCain announced last year he was diagnosed with an aggressive form of brain cancer and was given a dire prognosis.
The maverick Republican's death drew condolences from both sides of the aisle.
Democratic Senator Corey Booker, who is a rising star in his party, issued a statement on Twitter in which he recalled the warm welcome McCain gave him to the Senate in 2013.
"Our later private meeting in his office remains 1 of my most inspiring moments as a Senator," Booker said. "Death may end a life but it can never end a love. John Loved America: his impact will forever endure. RIP."
U.S. President Donald Trump expressed his "deepest sympathies" to McCain's family. But he had earlier denied that McCain, who was captured and tortured during the Vietnam War, is a war hero.
"He's not a war hero," Trump said in 2015. "He was a war hero because he was captured. I like people who weren't captured."
McCain repeatedly quarreled with the president, issuing intra-party rebukes, particularly on his handling of Russia. He reportedly asked Trump not be invited to his funeral.
McCain would have turned 82 next week.