Shaikh Mohammed and Cameron discussed international issues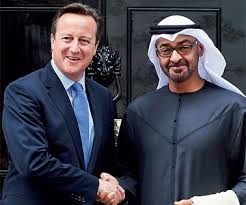 His Highness Shaikh Mohammed bin Zayed Al Nahyan, Crown Prince of Abu Dhabi and Deputy Supreme Commander of the UAE Armed Forces, and British Prime Minister David Cameron on Thursday discussed bilateral relations and international issues of common interest. The talks took place at 10 Downing Street where Cameron received Shaikh Mohammed bin Zayed.
The Crown Prince of Abu Dhabi expressed heartfelt sympathy to the British government and families on the death of British civilians in a recent terrorist attack in Sousse, Tunisia.
He also wished a speedy recovery for those injured in the attack which he condemned as one of the terrorist acts that are in violation of all religions, laws and human and ethical principles.
The British prime minister expressed appreciation of the UAE's position and thanked Shaikh Mohammed bin Zayed for sympathising with the families of the victims and people of Britain.
During the meeting, the two sides discussed the friendship and cooperation between the UAE and the United Kingdom and ways to bolster and promote them to serve the interests of the two friendly countries.
They looked into the progress of the relations between the two countries as well as their cooperation in the political, economic, investment and cultural domains.
The two sides also touched on coordination and consultation on a number of regional issues, most importantly combating terrorist organisations and the threats they pose to the security and peace of states. They emphasised on the importance of more efforts and cooperation for eradicating terrorism, extremism and deterring attacks by terrorist organisations and prevent them from seeding religious, sectarian and racial divisions among the components of safe societies.
The two sides also exchanged views on the current developments in regional and international issues, including the crises in Syria, Iraq, Yemen, Palestine, Libya and Tunisia.
Shaikh Abdullah bin Zayed Al Nahyan, Foreign Minister, Dr. Anwar bin Mohammed Gargash, Minister of State for Foreign Affairs among other officials also attended the meeting.