Sir Fazle Hasan Abed receives World Food Prize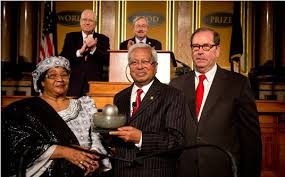 Brac Founder and Chairperson Sir Fazle Hasan Abed has been awarded World Food Prize, 2015 on Friday at a ceremony held at the Iowa State Capitol Building in Des Moines, Iowa, USA.
The highly prestigious prize, known as Nobel Prize for food and agriculture, was conferred to him for enhancing the world's production and distribution of food to those most in need, a Brac statement said today.
The chairman of The World Food Prize John Ruan III handed over the award that also included $250,000.
"I must acknowledge that the award does not belong to me alone, it is the recognition of Brac's work over the last 43 years in providing pathways out of poverty for millions of people in Bangladesh and other countries in Africa and Asia," said Sir Fazle while receiving the award.
"The real heroes are the poor themselves and, in particular, the women struggling with poverty overcoming enormous challenges each day of their lives," he added.
Earlier on July 1, Ambassador Kenneth M Quinn announced Sir Fazle as this year's winner in Washington, DC.
Guests and dignitaries present at the ceremony included US secretary of agriculture Tom Vilsack, president of World Food Prize Foundation Ambassador Kenneth Quinn, president of Iowa senate Honourable Pam Jochum, speaker of Iowa house Honorable Linda Upmeyer.