Sumaya want to show up Bengali culture to the world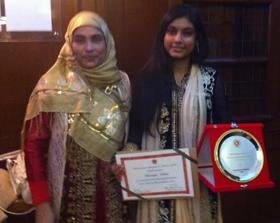 Sumaya Ashraf Mannan wants to be a Psychologist in future and wants to highlight Bangladesh to the world. She passed her GCSE with Nine As and two AStars from Seven Kings School and as a recognigtion, Sumaya received the 2014 Student Achievement Award given by Bangladesh High Commission in London.
Sumaya has expressed her gratitude to the Bangladesh Government to run these types of activities which encourages the British born Bangladeshi students to work even harder to achieve these recognitions.
She has also requested Bangladesh High Commission to organise more workshops and seminars to draw more attention to the history of liberation war, Bengali nationalism and thousands and thousands years old rich tradition of Bengali culture and tradition.
Sumaya's family is originally from Rajpur village of Rajnagar Upozilla of Mowlvibazar District. Her father is Abdul Ashraf Harun and mother Yasmin Ashraf. She is grandchild of prominent educationist and collector of liberation history M A Mannan.