Tasneem presents credentials to Cambodia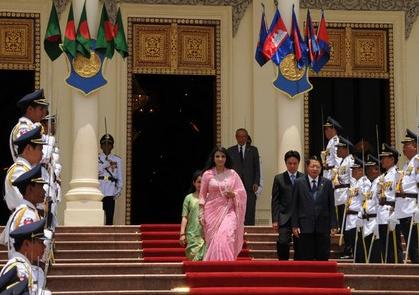 Bangladesh's Ambassador to Thailand, Saida Muna Tasneem, who is also accredited in Cambodia presented her credentials, said the Foreign Ministry on Thursday.
Tasneem presented the 'letter of credence' to King Norodom Sihamoni at the Royal Palace in Phnom Penh at an official ceremony with a 'full Guard of Honour'.
Senior Minister for the King's Palace, Deputy Prime Minister of Cambodia and Chief of Protocol, and high officials were present at the ceremony.
The Ambassador conveyed to King Sihamoni the greetings and good wishes of President Md Abdul Hamid and Prime Minister Sheikh Hasina.
The King is the son of later King Norodom Sihanouk and has served as a former Ambassador of Cambodia to UNESCO and the UN.
The ambassador briefed the King about Bangladesh's socio-economic development and the government's vision to be a middle-income country by 2021.
She extended an invitation to the King, and stressed on the importance of strengthening the common Buddhist heritage between the countries.
The King heartily welcomed the Ambassador to Cambodia and assured of all support in the discharge of her responsibilities in the best interest of the two nations.
He also conveyed his best wishes for Bangladesh's President and Prime Minister and the goodwill of the people of Cambodia for the people of Bangladesh.
After presenting credentials, the Ambassador called on Cambodia's Acting Foreign Minister, and Permanent Secretary at their Ministry of Foreign Affairs.
She also called on Commerce Minister Sun Chanthol and discussed ways and means to enhance bilateral trade and investment between Bangladesh and Cambodia.
She proposed export of Bangladesh jute bags, textiles, pharmaceuticals and ceramics to Cambodia. It was also agreed that the Commerce Ministers of the two countries would meet at a mutually convenient time for the first 'Joint Trade Committee' between the countries.
The Ambassador also called on the Secretary General of the Federation of Cambodian Chamber of Commerce Nguon Mengtech and stressed the importance of creating joint chambers between private sectors and businessmen of the two countries.
She also attended a reception hosted by the Bangladesh expatriate community in Cambodia.