The Famous Islamic Scholar Maulana Muhiuddin Khan passed away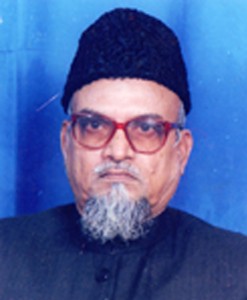 Maulana Muhiuddin Khan who was one of the most Famous Islamic Scholar in Asia, has passed away (Innalillahi wa inna ilaihi rajeun) in Dhaka, Bangladesh on 25 June Saturday. He was 80 years old.
Moulana Muhiuddin Khan is a prolific scholar and thinker of Islam. He is a renowned Mufassir of the Quran and Editor of the 'Monthly Madinah', which is one of the most well read Islamic journals in the world with a circulation of 140,000.
One of the Moulana's biggest projects to date is when he was invited by the Saudi Royal family to undertake a revision and condensation of the Tafseer version of the Quran. He was bestowed with luxuries usually reserved for royalty and completed 9 volumes in 90 days.
The Moulana has profound knowledge of Islam and specialises in various fields of Islamic Studies. He is a respected authority on the Qur'an and Hadith and a master of the Arabic language. There are not many in the realms of writing and politics that are as practical as Moulana Muhiuddin. Throughout his life, he has worked and struggled hard for just causes. A man of simplicity and sincerity, he has stood undaunted against recurring onslaughts and ultimately scarified everything for the sake of Allah.
Indeed Maulana Muhidddin Khan has enormous contribution in Islamic literary works especially many of the classical works of Arabic, Persian and Urdu as well as modern works of translation in to Bengali.
He is the student of Allama Zafar Ahmed Usmani R.A who is famous for his Ei'laus Sunan (which is a great mastery work in the field of Hadith for Hanafi Faqih) work.
On the other hand he is a student of Mufti Sayyid Amimul Ehsan R.A whose literary works are taugh in higher classes in Madrasas.
Maulana Muhiddin Khan became expert in the field of Fiqh under his tutelage while he was residing in Dhaka Alia Madrasa after the division of Pakistan & India.