The world's first Solar Helicopter is made by a Bangladeshi scientist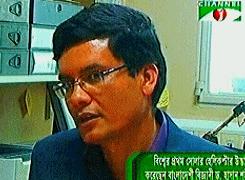 The credit of making first solar helicopter in the world goes to a Bangladeshi. The first solar helicopter has been made by Bangladeshi scientist Dr. Hasan Shahid. With the supervision of Dr. Hasan Shadid a group of scientists in Queen Mary University in England made a helicopter that will be run by only solar energy.
Dr. Hasan Shahid is an associate professor to the school of Engneering in Queen Mary University.
A group of masters students from the Queen Mary, University of London invented solar-powered remote-controlled helicopter dubbed 'Solarcopter' under the supervision of Bangladeshi scientist Dr M Hasan Shaheed. It is said to be the world of its kind.
Dr Shaheed is working in the university as lecturer, Robotics, Control and Computing,Department of Engineering.
Although there are fixed wing solar aircraft projects like Swiss Solar Impulse or NASA's Sun Seeker, Pathfinder or Helios, there was no helicopter that could fly with energy from sunlight only.
Solarcopter, is the first to fly only with solar-energy generated from a custom designed PV panel. It is a four-propeller quad rotor and capable of short flights at this moment but with further research it will soon be able fly for longer period," said Dr Shaheed.
This particular project started two years ago with an Iraqi origin student Aly Abidali and a solar helicopter prototype was successfully built. It carried a solar panel to charge an on board battery that provided the power for flight, rather than flying on purely solar power. The ultimate challenge, to make the Solarcopter fly solely from solar energy without the need of the battery, then began.
The project was carried forward to masters' level with a group of 6 more students including Bangladeshi origin Shakir Ahmed and a co-supervisor Prof Antonio Munjiza.
Finding the optimum weight to power ratio was the key challenge to produce such a helicopter.
Extensive tests were carried out to select materials, propulsion system and to optimise solar panel. After five months of hard work, the prototype was finally ready for a test.
As  most of the time there is not enough sunlight to test the flying ability of solar-powered system like this in UK. A solar simulator using halogen lamps was therefore constructed in the Lab.
When the Solarcopter, placed under the sun simulator, was activated through remote controller, the propellers started rotating and in few seconds, the Solarcopter took off from its base and remained in flight for a considerable time – the first solar powered helicopter in the world came into existence.
The Solarcopter was awarded best project prize 2013 sponsored by National Physics Laboratory (NPL).
The project has been receiving enormous appreciation from the very beginning from young enthusiasts across the globe through its facebook page.
Its footage is also available on Youtube.
Articles on Solarcopter have been published in technology magazines and blogs including Gizmag, Fast Company and Design Boom. The project was also featured in the international science and technology show, 'The Daily Planet' of the Discovery Channel.
Dr Shaheed now aims to carry this research forward to application levels. A proposal outlining further research direction has already been offered to the next batch of masters students.
The next challenge is to make the Solarcopter fly with payloads like camera and GPS. This will enable the system to be used for surveillance, law enforcement, search and rescue, traffic management, information gathering for weather forecast, tracking movement of animals.
Due to its low cost, many potential users are expected to be interested in the system. The device will also form the basis to build big solar helicopter to be used as passengers' career and cargo.