THEOs use sniffer dogs to tackle drug dealers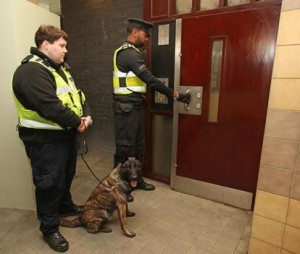 A Bethnal Green resident has praised a council project in which the Tower Hamlets Enforcement Officers (THEOs) use sniffer dogs to tackle drug dealing and associated anti-social behaviour in housing block stairwells.
Under the scheme the THEOs have been working with sniffer dogs and their trained handlers to carry out proactive patrols in six Bethnal Green housing blocks, with the intention of identifying and disrupting drug dealers operating there.
Local resident Alan Stevens had experienced drug dealing, drug misuse and prostitution outside his flat – but has noticed a vast improvement since the patrols began.
Mr Stevens, of Bentworth Court, said: "You don't expect to see these kind of problems inside your block and next to your front door. The dog patrols have been a great experience, and it's working – they have cleared the problem at my end of the building."
The patrols are part of a pilot that ran from November 14 to December 31 under the council's 'Dealer a Day' programme.
Mayor of Tower Hamlets, Lutfur Rahman, said: "Tackling crime and anti-social behaviour is a key concern for residents and my top priority. I am investing in the THEOs so that they can continue their work to tackle the anti-social behaviour issues that matter to residents."
Cllr Ohid Ahmed, Deputy Mayor of Tower Hamlets, said: "This is a good example of how the THEOs are striving to find new ways of tackling anti-social behaviour in order to improve residents' quality of life. I am happy to see residents noticed the difference."
The patrols have taken place during the hours 8pm-1am on Thursday, Friday, Saturday and Sunday at the following blocks: Sivill House and Cuff Point on Columbia Road; Robert Owen House and Arthur Wade House on Baroness Road; Dunmore Point on Gascoigne Place; Clifton House on Club Row; and Bentworth Court on Granby Street.