Thousands protest mosque attacks in Sweden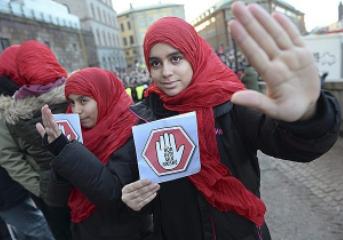 Thousands of people across Sweden rallied on Friday against a series of arson attacks on mosques in the past week.
At least 3,200 people gathered in Sweden's three largest cities — Stockholm, Gothenburg and Malmo — on Friday against racism and Islamophobia.
Up to 2,000 people gathered in Stockholm while around 500 people gathered in Gothenburg and between 600-700 people in Malmo, organizers of the protests told The Anadolu Agency.
Around 40 different groups organized the protests, including Sweden's Muslim Council and the Swedish United Nations Association.
They said in a statement on their Facebook page: "Swedish Muslims testify about how racism in general and Islamophobia in particular is growing stronger in Sweden. Hate crimes against individuals and assembly premises are occurring more often and we [believe] that religious freedom is under threat in Sweden."
The demonstrations come days after three mosques were attacked by arsonists in Eskilstuna, Eslov and Uppsala.
Sweden's Culture Minister Alice Bah Kuhnke, who attended the protest in Stockholm, said during a speech that she will meet representatives of various Muslim communities in February as part of a national strategy against Islamophobia in Sweden.
"Then the government will go from saying beautiful words to actually taking action," Kuhnke said.