Thursday first day of Ramadan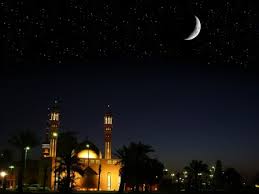 The moon for Ramadhan not sighted in Saudi Arabia including Gulf and Middle Eastern countries, thesunrisetoday.com learnt from Arab TV.
According to Arab TV, meeting of moon sightings committee were called on the appeal of Saudi Arabia's Supreme Court. The committee didn't received acknowledgments of moon sighting from different parts of the country.
The first day of the Muslim holy fasting month of Ramadan will be Thursday June 18.
Earlier, the Supreme Court of Saudi Arabia has asked its citizens to keep an eye out for the crescent moon on Tuesday, which, if sighted, would mark the beginning of the month of Ramadan on Wednesday.
If the Ramadan moon is not sighted on Tuesday, the month of fasting will begin on Thursday.
Saudi Arabia has called on Muslims to immediately report the sighting of the crescent moon with a court or an authority.
The moon sighting committee astronomically decides about the first day of Ramadan and the same practice is repeated to predict astronomically the last day of the Ramadan or Eid -ul- Fitr.
During Ramadan, Muslims around the world abstain from eating and drinking, focus on prayer, giving to charity and having marital relations from dawn to dusk.