Tower Hamlets foster carer awarded prestigious national award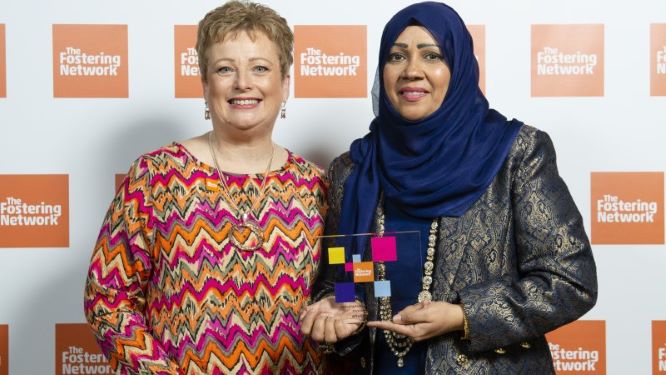 A Tower Hamlets foster carer who has given a home to almost 30 children over the past 13 years, as well as supporting hundreds of other foster carers and acting as an ambassador for fostering, has been awarded The Fostering Network's President's Award for her exceptional contribution to fostering.
Afia Choudhury will be receiving her award from the Children's Minister, Nadhim Zahawi, at the Fostering Excellence Awards ceremony in London on Wednesday October 24. The awards, run by the UK's leading fostering charity, The Fostering Network, recognise people who make outstanding contributions to foster care, whether they are social workers, foster carers or the children of fostering families, as well as the achievements of young people who have been fostered.
Afia, along with her husband Kamruz and their four sons, is currently caring for a group of three children who have lived with them for the last seven years. The Choudhurys have extended their home so that these children can remain living with them until they become adults.
Alongside the love, care and commitment she shows to the three siblings and all the other children she has fostered, Afia is the chair of Tower Hamlets Foster Carers' Association and offers vital peer support to other foster families – over the last year Afia had over 460 calls with other carers. She is also an ambassador for Tower Hamlets council and is heavily involved in the recruitment of new foster carers locally and nationally.
On receiving the award Afia said: 'I am absolutely delighted, and deeply honoured to be receiving this prestigious award from The Fostering Network. I would like to thank Tower Hamlets who listened, guided and supported me over the years, and gave me the opportunity to support some of the wonderful children I have been lucky to look after, and for nominating me.
'I came into fostering to make a difference to children, but actually they've made a difference to my life. I would love for others who are perhaps thinking about becoming foster carers to please come forward. Fostering has been a life transforming experience, which I would not change for anything.'
Libby Thornhill, President of The Fostering Network, said: 'With over 8,000 new foster families needed this year, there is a particular need across the UK for people to foster groups of brothers and sisters, and we also know that more could be done to encourage more people from the Muslim community to become foster carers. Afia is a fantastic role model in both of these areas. Her passion for foster care shines through and this, alongside her clear commitment to the children in her care, means I am absolutely delighted that she is receiving this President's Award.'
Ishara Tewary, fostering team manager at Tower Hamlets, who nominated Afia said: 'It has been said that fostering runs through Afia's blood! She is truly an outstanding foster carer. As well as providing a fantastically nurturing home to three young children who are happy, settled and are achieving brilliant things in life, the fostering world also benefits so much from her passion, dedication and positivity. She is such a tremendous asset to Tower Hamlets and to fostering in general.'
Tower Hamlets Mayor, John Biggs, said: 'Afia is an absolute inspiration to everyone at Tower Hamlets. She has offered a loving home to almost 30 foster children over the years and we cannot underestimate just what a difference that has made to their lives and in making our borough a better place. I am thrilled that she has won this award. We are so lucky to have people like Afia and her husband Kamruz in Tower Hamlets. I hope their story will encourage others to become foster carers. We have many children who need a foster home and the difference one person can make is profound.'
Afia's award is one of 21 presented at the ceremony on 24 October at Draper's Hall in London. Find out more about the Fostering Excellence Awards and see the full list of winners and their stories at thefosteringnetwork.org.uk/awards