Tower Hamlets supports Fairtrade Fortnight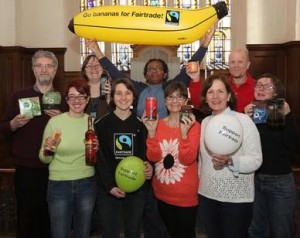 Residents and community groups in Tower Hamlets marked Fairtrade Fortnight (24 February to 9 March) with a number of events taking place across the borough to highlight the importance of giving farmers' in developing countries a fairer deal.
Tower Hamlets is a Fairtrade Borough and has an active Fairtrade Steering Group made up of local residents and representatives from local development campaigning groups, faith groups, universities, community and education organisations as well as the council.
Fairtrade is an international scheme set up in the 1980s to help improve the lives of farmers and workers in the developing world.
Focusing on better prices, decent working conditions and sustainability, the scheme has a kitemark which is now displayed on a number of products stocked by most UK supermarkets today, including some of the borough's caterers.
This year's Fairtrade Fortnight marked the launch of a special campaign that aims to transform the banana industry to ensure those at the sharp end of the supply chain, the millions of struggling banana farmers and workers, get a fairer deal.
The council's own catering service currently uses bananas which are Fairtrade and is committed to seeking affordable ways to increase Fairtrade products on its menus in schools and meals services.
Other Fairtrade products used by the catering service include orange and apple juice, coffee, tea and sugar.
Teachers and pupils from primary schools also came along to the Humanities Education Centre's annual conference at the Town Hall where they met with Kuapa Kokoo Cocoa Farmers and a representative from Fairtrade London Campaign. Pupils listened to presentations and took part in activities and discussions about Fairtrade with teachers and guests.
Across the borough Bow Church held their Big Brew on Saturday 1 March to support Fairtrade Fortnight. Residents were served Fairtrade tea and coffee as well as cakes made with Fairtrade ingredients.
Mayor of Tower Hamlets, Lutfur Rahman said: "The council is committed to supporting Fairtrade and we continue to encourage people to use Fairtrade products across the borough."
Councillor Rabina Khan, cabinet member for Development and Renewal added: "We are a proud Fairtrade borough and I urge everyone to support the Fairtrade movement where they can."
The Tower Hamlets Fairtrade Steering Group is now looking for new members to support their work to promote and lobby across the borough. The group is open to all, and volunteers do not have to be active as new ideas and support are welcome.
Residents who are interested should email fairtrade@towerhamlets.gov.uk. The next Steering Group meeting will be held at Whitechapel Idea Store on March 19 at 6pm.