Tulip invites Bangladesh cricket team to UK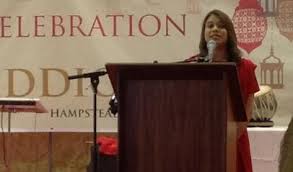 Tulip Siddiq, Bangladesh origin British MP has congratulated Bangladesh cricket team on their consecutive ODI series wins and announced a reception for them in the UK.
The granddaughter of Bangabandhu Sheikh Mujibur Rahman held out the invite while speaking at the celebrations of Eid-ul-Fitr at an east London auditorium on Sunday.
About 1000 people joined Tulip's event celebrating the Eid – among whom were five Members of Parliament including the senior Labor Party leader.
Labor leadership frontrunner Andy Burnham, the party's London mayoral hopeful Sadiq Khan MP, senior Asian MP Keith Vaz, MP Mike Gate, and MP Stephen Timms were among the guests at Sunday's program.
Tulip's mother Sheikh Rehana, sister of Prime Minister Sheikh Hasina, was present.
The first-time Labour MP thanked all for their support in her election to the House of Commons.
She said a reception, bigger than Sunday's celebrations, would be organized if the Bangladesh team came to London.
Greeting the two other Bangladesh-origin MPs, Rushanara Ali and Rupa Huq, she said, "I want to greet the cricket team of Bangladesh. We want the team to come over here. We invite you. We want to give you a reception."
The Hampstead and Kilburn MP also said she wished Burnham would be the leader of the Labour Party and if that happened, she would take Burnham to Bangladesh.
Burnham said they gathered not only to celebrate the Eid but also to celebrate the election of Tulip, who he said 'is going to be one of the biggest talents in the Labour Party in the next decade or more'.