Tunisia identifies all 38 victims of beach massacre, 30 British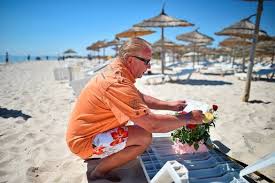 All 38 victims of the Tunisian beach resort massacre have been formally identified, among them 30 Britons, the health ministry said Wednesday.
On Friday, 23-year-old student Seifeddine Rezgui went on a bloody rampage in Port El Kantaoui, shooting 38 foreigners with a Kalashnikov assault rifle at the popular resort's five-star Riu Imperial Marhaba hotel.
"All the bodies have been identified. Among them are 30 Britons," said the ministry's director of emergency services, Naoufel Somrani.
Of the remaining victims, three were from Ireland, two from Germany and one each from Belgium, Portugal and Russia.
Britain was flying home Wednesday the bodies of eight nationals, with more repatriations expected in the coming days.
The three Irish victims were also set for repatriation Wednesday, the Tunisian health ministry said.
Friday's death toll was the worst loss of life for Britain in a jihadist attack since the July 2005 bombings in London.
Prime Minister David Cameron has promised to back a full investigation, calling for "a response at home and abroad" to violent Islamic fundamentalism.
British police have also sent forensic experts to Tunisia to help local teams probing the attack.
The 25 British tourists who were wounded have already been flown home, while 4,000 terrified holidaymakers were repatriated at the weekend. Another 1,900 are due to return home in the coming days.