Turkish minister visits Rohingya camps in Bangladesh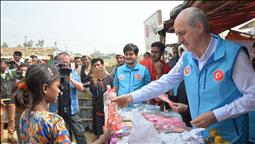 Culture and Tourism Minister Numan Kurtulmus visited Rohingya refugee camps in southeast Bangladesh on Wednesday.
Addressing Rohingya Muslims living at refugee camps in southeastern district of Cox's Bazar, Kurtulmus said: "Your emigration is similar to the emigration of Prophet Muhammad. You faced persecution only for saying 'Allah'.  This is an honor for you. But to be an onlooker to this persecution is a disgrace for all humanity."
Cox's Bazar has been hosting around a million refugees, including more than 650,000 people who came to Bangladesh following violence in the Rakhine state of western Myanmar last year.
The minister later distributed food at the Maynargona 2 Camp, which hosts around 25,000 people.
He also opened a field hospital at another camp established by the Turkish Health Ministry and the Emergency and Rescue Management Authority (AFAD).
The minister also observed aid activities of the Turkish Diyanet Foundation and the Turkish Red Crescent.
He spoke with some refugees and listened to their painful stories. Kurtulmus also visited another camp built by the Istanbul-based IHH Humanitarian Aid Foundation.
The IHH has built 4,000 shelters for refugees in the area and aims to build 1,000 more shelters by the end of February.