Two arrested and £400k seized in Hajj fraud investigation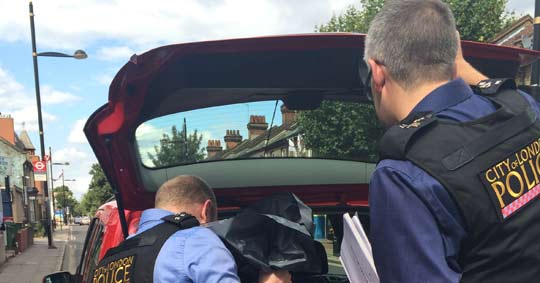 Two men were arrested and an estimated £400,000 was seized a travel agencies in East London yesterday ( Wed 20 Aug) as part of an ongoing investigation into Hajj fraud.
The investigation by Birmingham City Council Trading Standards and City of London Police, saw searches on two travel agencies suspected of selling Hajj packages with false or no travel protection.
The tour operators are suspected of selling package holidays, including Hajj pilgrimages, by either falsely claiming to have Air Travel Organiser's Licence (ATOL) protection or selling unlicensed packages with no ATOL protection, leaving customers exposed if something went wrong with their trips.
The operation, led by Birmingham Trading Standards, saw City of London Police detectives and Trading Standards officers from Birmingham and Newham gain access to a residential property in east London before moving down the road to conduct a separate search of a travel agency. Neither of the traders at the two properties searched were legally permitted to sell these trips.
The two men, aged 37 and 42, were taken to a local police station for questioning and were later released on bail.
Tens of thousands of British Muslims will have booked trips to Saudi Arabia in October to make the pilgrimage to the Mecca and celebrate Hajj.
However, in the coming weeks some of them will unfortunately find out that once-in-a-lifetime trips have either been soured by sub-standard hotels and travel arrangements or completely destroyed by criminals selling scam Hajj packages for non-existent flights, accommodation and visas.
All travel companies selling packages involving flights and accommodation must be ATOL accredited to ensure people are protected and insured against unforeseen circumstances.
The raid comes as the City of London Police, the National Policing Lead for Fraud, and Birmingham Trading Standards continue with their national Hajj fraud campaign – http://www.cityoflondon.police.uk/news-and-appeals/campaigns-and-initiatives/hajj/Pages/default.aspx , focused on preventing Muslims falling into the clutches of fraudsters offering scam packages to Mecca.
Throughout July and August police officers from forces across the UK have been going out into their Muslim communities with crime prevention advice to help prevent people becoming victim to Hajj Fraud.
City of London Police Commander Steve Head, who is also the Police National Coordinator for Economic Crime , said: "Hajj fraud damages and, in some cases, completely destroys people's dreams of making a once-in-a-lifetime trip to Mecca.
"Tackling this problem continues to be a major priority for the City of London Police and this operation with Birmingham Trading Standards highlights our determination to disrupt any operation that we believe is a threat to Muslims who are looking to book Hajj packages in good faith ."
Sajeela Naseer, Head of Trading Standards for Birmingham City Council, said: " Yesterday's action by our Trading Standards officers and the City of London Police has maximised our effectiveness in tackling Hajj package tour fraud. The visits related to businesses which we believe are defrauding and misleading their customers, one of which has already been previously warned.
"We have been successfully prosecuting such operators for a number of years, and through our investigations we are identifying many more operators like these who are trading nationally through the internet or advertising.
"As we believe this is an under-reported but widespread problem, the National Trading Standards Board responded by establishing a National Task Group led by Birmingham City Council to help tackle these illegal activities. This has enabled us to adopt a co-ordinated approach working with different local authorities and the City of London Police to clamp down on the perpetrators. "
Andy Cohen, Head of ATOL at the CAA, said: "Any UK travel business selling air packages, which includes Hajj pilgrimages, must have ATOL protection; it's as simple as that.
"ATOL is the Government backed financial protection scheme, which gives air travellers the peace of mind they won't lose their money and will get home safely – even if the travel business they book with goes bust.
"Sadly, we have seen cases of businesses selling Hajj package deals that either don't have the ATOL protection they should have, or are falsely claiming to have ATOL protection when they are not a registered ATOL company. This potentially leaves consumers booking with these companies at risk of being left out of pocket.
"It is really important customers look beyond the price and check and double check that the travel business has ATOL protection – and ensure they receive an ATOL certificate once they pay any money towards their trip."
Councillor Ian Corbett, Newham Council's Mayoral Advisor for Environment and Leisure, said: " This is a great example of joined up working between local authorities and the police to ensure honest law-abiding citizens are not ripped-off by opportunist crooks who try to make a profit out of their clients' desire to participate in the Hajj pilgrimage.
"We urge anyone making travel arrangements, to Mecca or the rest of the world, to check that their travel agent is ATOL registered. Any resident who suspects a company in Newham is carrying out fraudulent activities should contact our trading standards team on 020 8430 2000."
Anyone who has concerns about Hajj travel packages or thinks they may have been a victim of Hajj fraud can email hajjhelp@birmingham.gov.uk or contact Action Fraud on 0300 123 2040 or visit the website: www.actionfraud.police.uk.
How to protect yourself and your loved ones from Hajj fraudsters
If you are booking a flight-based package make sure your travel company is ATOL (Air Travel Organisers' Licensing) protected by the Civil Aviation Authority (CAA).
A legitimate ATOL logo will have a four or five digit number and can be checked online at: http://www.caa.co.uk/application.aspx.​
ATOL protection is the Government backed financial protection scheme and means if your travel company collapse while you are in Saudi Arabia, you will be repatriated at no further cost. The CAA will also do everything possible to ensure you can finish and enjoy your holiday without disruption. ​​​