UK dispatches expert to clean up Sundarban oil-spill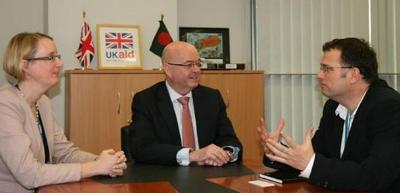 The UK government has dispatched an expert to support the oil-spill clean-up in the Sundarbans, a UNESCO world heritage site.
British High Commission in Dhaka said Mark Whittington arrived on Wednesday at the request of the UN and the Bangladesh government.
It says in a media release that Whittington is an expert of the International Tanker Owners Pollution Federation Limited and has dealt with shipping accidents around the world.
He advises and supports the design of contingency plans related to accidental pollution from ships.
He also has extensive expertise about cleaning up operations in mangroves.
More than 350,000 litres of furnace oil spilled into the Shela River after a tanker capsized on Dec 9. The incident drew global attention.
A UN team visited the spot and later in a report said it was "a wakeup call" and that "the immediate environmental impact on the mangrove and aquatic ecosystems is limited".
The team suggested closing the Shela river route for commercial traffic.
Whittington will work with the government of Bangladesh and UN to implement recommendations made by the team.
British High Commissioner to Bangladesh Robert Gibson says he was "pleased that the UK can provide support with the expertise of Mark to assist the Bangladesh government in tackling the disaster".
"The Sundarban is a UNESCO World Heritage Site, and is very special to the people of Bangladesh and we are all responsible to protect it," he was quoted as saying in the media release.
"This is a clear example of the UK's ongoing support to the government of Bangladesh for coordinated planning and response to disasters," he said.
UK is one of the largest bilateral donors in Bangladesh.