UK house price inflation slows to 13-month low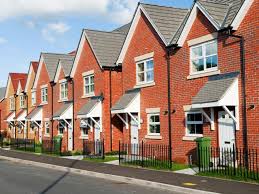 British house prices rose at their slowest annual rate in more than a year this month but the market looks set to recover in 2015 if the economy improves as expected, a survey from mortgage lender Nationwide showed.
Nationwide said house prices rose 7.2 percent in the year to December, the smallest annual increase since November 2013 and slowing for a fourth consecutive month. Economists polled by Reuters had expected growth of 7.5 percent.
British housing market activity and price rises have been slowing since the middle of the year, in part because of steps by regulators to require lenders to make tougher checks on borrowers' ability to repay mortgages.
House price growth in the three months to December — which many analysts view as the best guide to the short-term trend in house prices — nevertheless ticked up to 1.0 percent, from 0.9 percent in the preceding three months.
And although annual house price inflation fell in 12 out of 13 British regions — with only the north of England seeing faster growth — Nationwide said it expected the market to recover next year.
"The weakening of buyer interest in houses may be close to bottoming out and we see it picking up to a limited extent in 2015 from current levels," said Howard Archer, economist at IHS Global Insight.
"There is also the possibility that the markedly increased likelihood that the Bank of England will not lift interest rates before late 2015 will provide some limited near-term impetus to housing market activity."
Nationwide said house price growth in London cooled in December but still outpaced other regions by some distance.
Prices in the capital rose 17.8 percent over the last 12 months, with all regions outside of south-east England recording single-digit rates of growth.
"If the economic backdrop continues to improve as we and most forecasters expect, activity in the housing market is likely to regain momentum in the months ahead," said Robert Gardner, Nationwide's chief economist.
"There are encouraging signs that construction is starting to pick up. Hopefully, this will set the stage for house price growth gradually converging with income growth in the quarters ahead."
Gardner added that recent changes to the stamp duty land tax could also help to stimulate the housing market.
While Britain looks set to be one of the fastest growing major industrialized economies this year, wage growth is still very weak, making houses hard to afford for many British workers.
The Bank of England is also expected to raise interest rates late next year for the first time since 2007.