UK upset with the city polls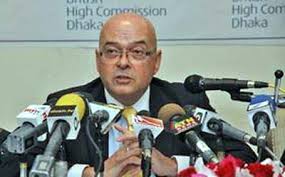 The UK ambassador to Bangladesh Robert Gibson said he was disappointed that a full and clear Election Commission probe into the city corporation rigging allegations did not happen.
The UK envoy was speaking at the Diplomatic Correspondents Association, Bangladesh (DCAB) flagship 'DCABtalk' on Thursday at National Press Club.
Robert mentioned in his speech that he welcomed the election at first as it was running well. He also said that there were no violence or disruption in the election at first.
"Later, the situation changed. There are evidences in the social and press media that point out the disruption and interference in the city corporation election process," Robert added.
The UK ambassador mentioned that the evidences on the social media should have been enough for an investigation.
However, the UK ambassador said that there had been no legal challenge to the elections and the elections commissions had declared the results.
Before ending his speech, he said that he hopes the newly elected Dhaka mayors would work with their future plans accordingly as the London mayors do.