UKIM Madina Mosque helping the homeless with winter survival kits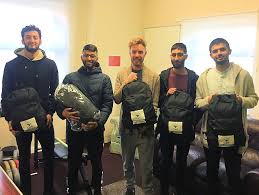 UKIM Madina Mosque, Newbold, has raised over £900 as part of an iCare fundraiser and are currently distributing 'Cold Survival Kits' to provide respite for the homeless sleeping rough this winter.
Ashraf Zia, mosque chairman, said: "We have held CSE workshops, worked with CWC, Macmillan coffee morning, winter survival kits, food hubs, health awareness sessions, feed the needy.
"We are proud to be working together to support projects and charities which benefit local people in the town we live in.
"30 survival kits are being distributed across Rochdale over the winter period. We need to ensure we do all we can to help those in need."
Maqsood Anwar, head of iCare, said: "It is incredibly inspiring to see the UKIM Rochdale mosques come together in partnership and get involved to help those that are less fortunate in their locality."
Ashraf Zia, mosque chairman, said: "This is the third year we have raised money and provided the homeless with winter kits. The community have been really supportive in recognising the need to help those less fortunate.
"As part of another iCare project, the mosque runs a food hub on the last Sunday of each month, between 11am – 1pm, providing food to the homeless, destitute and those struggling in the community."