Umrah visas to resume soon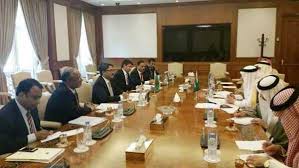 The Saudi government will resume visa issuance for Umrah for Bangladeshi pilgrims after the upcoming Hajj season.
State Minister for Foreign Affairs of Saudi Arabia, Dr. Nizar bin Obaid Madani said this in Jeddah on Monday. A press note by the Bangladeshi Foreign Ministry on Tuesday.
The Saudi foreign minister also said that recruitment of Bangladeshi workers for all other sectors in Saudi Arabia would begin in time. He informed that the Saudi government has already started recruiting Bangladeshi female domestic helps.
Saudi Arabian state minister expressed these during bilateral talks with his Bangladesh counterpart Md. Shahriar Alam in Jeddah on Monday. State minister Shahriar is on a three-day official visit in Jeddah.
During the meeting, Dr. Madani said Saudi Arabia is ready to sign a Memorandum of Understanding (MoU) on Foreign Office Consultations (FOC) with Bangladesh and said that Saudi Arabia holds great importance in maintaining good relationships with Bangladesh.
The two state ministers discussed other issues of bilateral relations between Bangladesh and Saudi Arabia in the meeting.
The Saudi State Minister lauded Bangladesh's achievements in socio economic sectors in recent years and hoped that other countries and other OIC member states would be encouraged to follow Bangladesh.
The Saudi state minister said that signing of a MoU between the two countries would be good for the bilateral political consultations between the two countries would create new platforms for different ministries and departments of the two countries to engage more on mutually beneficial areas of cooperation.
Bangladesh state minister Shahriar requested the Saudi government to facilitate issuance of Umrah visa for Bangladeshi pilgrims.
Shahriar Alam also said that the two countries should work more closely together to explore the full potential of bilateral relations in trade and commerce.
He mentioned that Bangladesh could provide Saudi Arabia with high quality and international standard products such as readymade garments, medicine, jute and leather goods, plastic items, ceramic items etc. at competitive prices in the international market.