Unexploded World War Two Bomb in Bethnal Green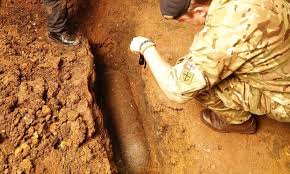 Tower Hamlets Council has announced that an unexploded World War Two bomb has been uncovered at a building site in Bethnal Green – at the junction of Temple Street and Old Bethnal Green Road.
The Council has confirmed that the surrounding area is currently cordoned off to pedestrians and traffic. Residents are advised to avoid the area and through traffic is advised to take alternative routes and not plan to go through Bethnal Green.
The Council's Emergency Planning procedure has now kicked into operation to keep residents safe. The Metropolitan Police and London Fire Brigade are working with the Council on this. The Council has set up a rest centre in a local school and has sent a full Rest Centre Team to the school to support the rest centre.
The Council promises updates on the situation as soon as possible.