United in protecting the Right to Vote in Tower Hamlets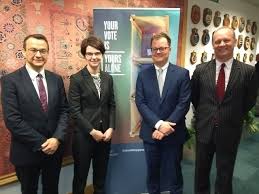 Tower Hamlets Council today set out the plans in place to deliver a free and fair election in the borough on May 3, as it welcomed government minister Chloe Smith, MP, to the town hall.
The Minister for the Constitution attended a partnership event with representatives of Crimestoppers and the Electoral Commission to raise awareness of their new campaign.
The 'Your Vote is Yours Alone' campaign will educate voters about electoral fraud and ensure they know how to cast their own vote safely in May.
In Tower Hamlets there will be two sets of Elections, for local councillors and the Mayor of the borough.
Chief Executive at the council and Returning Officer for the elections, Will Tuckley, welcomed the minister to the borough and said: "We have been preparing for the elections in Tower Hamlets for some time now and they will have some of the strongest processes in place in London to prevent fraud and some of the most robust in the country.
"These measures include exclusion zones around the entrance to polling stations, which has now been recommended nationally as good practice.
"We know that delivering a free and fair election in May requires us to work in partnership, and we're doing that, working with the Police and Electoral Commission. We also need to work with local people, sharing the plans we have in place, giving them the information they need to ensure they are registered to vote and the confidence that they can place their own vote safely and securely."
Speaking at the event Minister for the Constitution, Chloe Smith said: "The Government is committed to making sure that our electoral system is fit for the future. As part of this work, the Cabinet Office has partnered with Crimestoppers and the Electoral Commission on a new campaign to combat electoral fraud during the May elections.
"The Your Vote is Yours Alone campaign is designed to empower electors to recognise and report voter fraud. Ahead of the local elections, we will encourage those who suspect electoral fraud to contact the Crimestoppers helpline who will work with the police to investigate allegations.
"I am grateful to Tower Hamlets for hosting this event and for helping to highlight electoral fraud – it's not a victimless crime and it's right that together, we do all we can to stamp it out completely."
The new campaign will feature on social media and poster sites across the country and the borough, as well as on the council's social media channels.
The council recently launched a reporting tool on its website for local people to raise concerns. It can be found on the council's website
You can call Crimestoppers on 0800 555 111.