US calls for inclusive polls in Bangladesh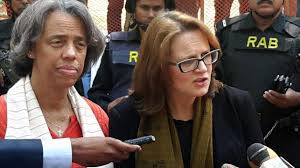 The United States has said again that it wants to see inclusive polls in Bangladesh. Deputy assistant to the US president and senior director for South and Central Asia at the National Security Council, Lisa Curtis discussed the issue during a meeting with foreign minister AH Mahmood Ali at the latter's office on Sunday.
Responding to a query of Curtis, the foreign minister said that the Bangladesh government is committed to a free, fair and participatory election. He also invited observers from different countries including the USA to observe the polls.
Praising the USA for its role in addressing the Rohingya crisis, Mahmood Ali urged the USA to continue playing a strong role on this issue at the United Nations Security Council.
The minister also put emphasis on maintaining a sustained pressure by the international community including the USA on the Myanmar government to create a safe and secured condition in Rakhine state for the sustainable repatriation of Rohingyas.
Curtis praised the role played by the Bangladesh military in humanitarian response to the Rohingyas.
Focusing on president Trump's National Security Strategy, Curtis highlighted the Indo-Pacific Strategy of the US administration and expressed its eagerness to deepen engagement with Bangladesh.
Curtis also had a meeting with foreign secretary Md Shahidul Haque. Rohingya issue featured prominently in the meeting.
Lisa Curtis also called on prime minister Sheikh Hasina's security affairs advisor retired major general Tarique Ahmed Siddique and international affairs advisor Gowher Rizvi in the afternoon.
She left Dhaka in the evening.