Veteran Muslim Aid staff member wins prestigious award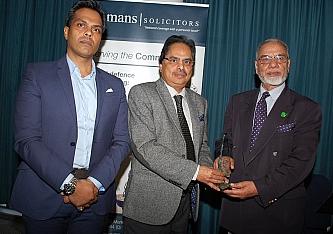 Muslim Aid's Community Liaison Officer, Mr Mohammad Walayat Khokhar MBE, received a 'Services to the Charitable Sector' accolade at the 11th Annual Community Leadership Awards in partnership with SOAS University.  The award was presented to Mr Khokhar by Mr Mohamed Sarwar, Chief Editor of The Nation Newspaper, at a prestigious awards ceremony at the Crowne Plaza, London, on 19th April. Among the attendees were community leaders, politicians, academics and successful entrepreneurs.
On receiving the award, Mr Khokhar said: "It was indeed a great privilege and honour to be the recipient of this particular award." Mr Khokhar also spoke to the audience at the event and expressed his gratitude to the Chairman of the Community Leadership Foundation, Barrister Abid Hussain, and his team for this very sought after award. He informed the audience about the relief and development work being carried out by Muslim Aid both nationally and internationally for the last three decades.
Mr Khokhar has worked for Muslim Aid for fifteen years as a Community Liaison Officer and has been a pillar of the community for decades. Among his many other achievements, Mr Khokhar was honoured by Her Majesty the Queen, with an MBE (Member of the British Empire) in recognition of his dedicated service to the community in 2012, and was invited by Her Majesty the Queen to her annual garden party the following year.