World leaders join mass Paris march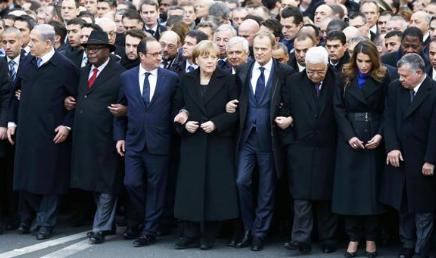 Dozens of world leaders including Muslim and Jewish statesmen linked arms leading hundreds of thousands of French citizens in an unprecedented march under high security to pay tribute to victims of Islamist militant attacks.
President Francois Hollande and leaders from Germany, Italy, Israel, Turkey, Britain and the Palestinian territories among others, moved off from the central Place de la Republique ahead of a sea of French and other flags. Giant letters attached to a statue in the square spelt out the word Pourquoi?" (Why?) and small groups sang the "La Marseillaise" national anthem.
Some 2,200 police and soldiers patrolled Paris streets to protect marchers from would-be attackers, with police snipers on rooftops and plain-clothes detectives mingling with the crowd. City sewers were searched ahead of the vigil and underground train stations around the march route are due to be closed down.
The silent march — which may prove the largest seen in modern times through Paris — reflected shock over the worst militant Islamist assault on a European city in nine years. For France, it raised questions of free speech, religion and security, and beyond French frontiers it exposed the vulnerability of states to urban attacks.
"Paris is today the capital of the world. Our entire country will rise up and show its best side," said Hollande in a statement.
Seventeen people, including journalists and police, were killed in three days of violence that began with a shooting attack on the weekly Charlie Hebdo known for its satirical attacks on Islam and other religions as well as politicians. It ended on Friday with a hostage-taking at a Jewish deli in which four hostages were killed.
Overnight, an illuminated sign on the Arc de Triomphe read: "Paris est Charlie" ("Paris is Charlie").
A video emerged featuring a man resembling the gunman killed in the kosher deli. He pledged allegiance to the Islamic State insurgent group and urged French Muslims to follow his example. A French anti-terrorist police source confirmed it was the killer, Amedy Coulibaly, speaking before the action.